first lady of art direction: deanne cheuk
i am a self-professed tokion addict. since day one, i've been a loyal fan, follower and devotee, drawn in by its devotion to phenomenally creative layout design. while such a commitment to aesthetic can easily create a case of all sizzle and no steak- tokion manages to rise above the fray and publish one of the most beautiful magazines out there- with truly great content to match. heavy on both style and substance, it knows no equal in my book. and behind all of this creativity is deanne cheuk, art director extraordinaire.
few publications show such a passion for layout design and i have ms. cheuk to thank for tokion's untouchable graphic prowess. the magnitude of deanne's talent and work ethic cannot be overestimated- if you haven't seen the current (oct 04) issue of tokion, go grab one right now- her work speaks for itself. inside this month's issue she has painstakingly laid out each article's title in string. yes, string (my scanner is refusing to perform today, so i will post pictures of the string titles as soon as humanly possible). this sort of dedication to unique ideas is something that makes ms. cheuk's work stand out as a cut above the rest. along with contributing artists like misty keasler, nancy barr and kate orne, ms. cheuk provides tokion with the consistent visual punch that allow it to exist unsurpassed in its field.
ms. cheuk was nice enough to take time out of her very busy schedule (she also publishes her own magazine, MU, which is equally gorgeous) to speak with me about her work at tokion (and her opinion of the design scene in general). here are some highlights. enjoy::
design*sponge
:: what do you think tokion brings to the magazine world that was missing from it before?
deanne cheuk:: from a design point of view, i think the design of tokion is very free and fun. i don't use standard fonts for titles and most are either hand drawn or laboriously constructed out of string or painted with watercolor or drawn with dots or anything else that can take days at a time for one title. no other magazine would ever spend that much time on a title!
design*sponge:: with so many arts magazines in the industry, what drew you to tokion? what about tokion is so special in your opinion?
deanne cheuk:: tokion is the magazine i have been art directing for the past 14 issues. it is special to me as the publisher gives me the freedom to do what i want to with the design, which is very important to me with all my work. i also really love the stories and subjects they choose to follow.
design*sponge:: are there any magazines you think deserve more attention than they current receive for things like design, layout and commitment to creative aesthetics?
deanne cheuk:: i think america magazine is really great. i love what they are doing with their printing [foiling the edges of the pages].
design*sponge:: is there anything missing from the design world you'd like to see more of?
deanne cheuk:: more originality! there isn't enough of it and there can never be too much of it!

SHE'S MY STAR [string title*tokion] geez, can you even fathom how long this would take for an entire magazine full of STRING titles. i can't even describe how much i love it.

ZEBRA CHIC [article title*tokion] nuff said. look at it. i mean, come on.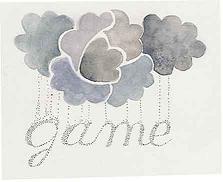 WATERCOLOR PLAY [game review title*tokion] she even made tiny watercolors and dotted titles. so cool.

QUEEN OF TITLES [king of art title*tokion] deanne's amazing work with watercolor titles

COLORED PENCIL PRINCESS [page layout*tokion] she's a wiz with crayons and pencils

FUNGI LADY [fungi girl piece*deanne cheuk] from miss cheuk's website and soon to be released book
Labels: graphic design