cheep cheep, part deux
thanks to everyone who sent in great modern bird feeder suggestions- velocity art and design has now decided to sell one of the suggestions on their site! you can now see (and buy) the whole collection from "modern birdhouses" online at velocity. so, i will now proceed to blatantly steal of all the text from velocity's site, written by dail at modern birdhouses.
"Modern Birdhouses' Case Study Masters Series honors the architectural pioneers who participated in the Case Study Houses Program. The Case Study Houses Program was established in 1945 by John Entenza, the progressive editor and publisher of Arts and Architecture magazine. Entenza commissioned architects to design simple and innovative modern homes for a growing post-war housing market. The resulting homes took full advantage of industrialized building processes and continue to broadly influence modern architecture. Participants included such icons as Charles Eames and Eero Saarinen. Our birdhouses — named after Case Study participants J.R. Davidson, Richard Neutra, and Ralph Rapson — feature simple lines, modern detailing, and durable materials. They are hand-made from sustainably harvested teak that has been certified with the Rainforest Alliance's SmartWood program (www.smartwood.org). The wood is finished with an oil that protects against water, mildew, and UV rays. The roofs are constructed of sandblasted 1/4" thick aluminum plate and aluminum dowels. Stainless steel fasteners prevent rust and corrosion. The opening is 1-3/8" in diameter, which will accomodate common cavity-nesting birds such as chickadees, bluebirds, wrens, and swallows."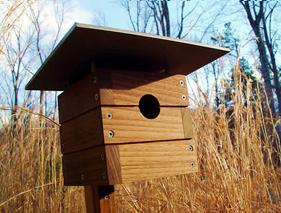 "The birdhouses ship pre-assembled, except for the mounting bracket, which can be attached with two provided stainless steel screws. A keyhole slot on the back of the mounting bracket allow the birdhouse to be hung on a single screw. The floor is easily removable for cleaning."
so, check out the whole line at velocity. thanks l+j!
Labels: accessories